How Do Therapy Dogs Get Certified?
Therapy dogs are a valuable asset in many situations. They bring comfort and hope to so many people. Residents in nursing homes, hospices and hospitals can forget their pain and hardships for a brief time thanks to a therapy dog visit. It is beneficial to receive this gift of unconditional love. Therapy dogs are also now being used in special needs classrooms, airports, and areas where natural disasters have occurred. They have been very successful helping people who survived traumatic crimes.
One of the most trusted and popular therapy organizations is the Delta Society, (deltasociety.org). They offer a 12-hour course as well as a home study program. Moreover, their website has a large selection of resources with important information. Therapy Dogs International (tdi-dog.org) and Therapy Dogs, Inc. are also well-respected organizations that provide certification.
Most therapy groups will require your dog to have earned the Canine Good Citizen Award from the American Kennel Club. Their excellent training program is available even if you aren't interested in having your dog certified as a therapy dog.
While the requirements vary somewhat depending on the organization, most basic needs are the same. Most importantly, your dog needs to be well-socialized. It's a good idea to get your dog used to different types of people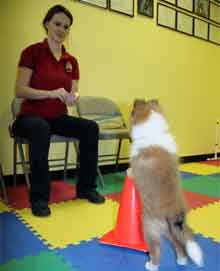 and environments, such as crowds and busy areas. Preferred candidates will be at least a year old and been with the same owner for that amount of time. Good overall health and an up-to-date vaccination records are necessary, and you will need a health certificate from your veterinarian.
Moreover, any breed is eligible for certification. Older dogs are welcome because they are often calmer. Dogs need to be on-leash obedience. It's vital that the dog has an even, stable temperament. Crowds and other dogs are often part of the environment where they provide their therapy. Their days will be filled with a lot of mental and physical stimulation. Of course, it's also important for them to enjoy being cuddled and petted. These programs can be very rewarding for the dogs, owners, and recipients of the therapy.