Options For Traveling With Your Pet
Many people with pets like to bring them along when they travel. This option is best when you are sleeping somewhere you own, such as an RV, camper, or vacation home. There are also pet-friendly hotels that allow you to bring Fido along on the trip.
When traveling and staying in hotels with your pets, you need to call ahead to make sure they will take pets. While a number of hotels do, the majority do not. Hotels that do take pets also have very strict rules about the pets they will allow. They may have a rule on the type of pet, such as dogs or cats. Many places also have rules about the breed of a dog because insurance regulations prohibit accepting some of the more aggressive breeds. They may have a limit on the dog's size and how much noise they can make.
You also need to find out if it is okay to leave your pet in the room while you are gone for the day. There may be rules against that because cleaning personnel need to get come in and tidy up the room. If you cannot leave the pet in the room, you can usually find local kennels or doggie day care places that will take your dog in for a few hours. Often, you can find kennels just outside of major amusement parks specifically for the patrons of that park.
If you do happen to have an RV or camper, you will want to make sure you bring all your pet's health records along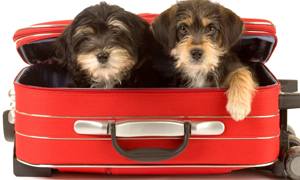 with you. You also need to call ahead to the RV parks you plan to camp in to make sure they allow pets and what the rules are for those pets. Never let your dog roam free in a campground; there are just too many ways for them to get hurt, lost, or stolen. Most of the time, if a campground allows pets, they ask that you leave them inside your camper while you are gone for safety reasons. If you do this, you need to make sure they are safe and your air conditioner or heater is hooked up properly.
Traveling with your pet can be very enjoyable as long as you follow the rules where you go and keep your pet safe.