Options For Leaving Your Pet When You Go On Vacation
Going on vacation is something people look forward to every year, but what do you do with your beloved pets when you leave? If you are not going to travel with your pets, you have some options to consider.
Boarding kennels are a great place to leave your dog when you are gone. A boarding kennel serves dogs and sometimes cats and only offers boarding. They often have larger cages with indoor and outdoor sections so your pet is able to walk around and get some fresh air. Many also have options for walks and playtime.
The vet's office can also keep your animal while you are away. This is a great option for an animal that needs special care, such as a sick, disabled, or elderly pet. The emergency medical care is there if anything should happen, and depending upon the size of the doctor's office, there is often at least one dedicated staff member in the kennel area all the time.
A pet sitter is another option for your pet. There are agencies or individuals that will come to your home throughout the day to feed and walk your pets. The cost is determined by how many pets you have and how often they need to be there. You should always look for someone who is insured and bonded. The insurance covers liability issues, and bonding is like a background check to ensure this person is not going to steal from you. You may also want to discuss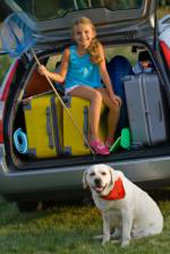 with the sitter and your homeowner's insurance what would happen if your pet bites the sitter for some reason.
An option used by many people, especially when taking short trips, is to have a trusted friend or relative come over to care for the pet. This is a good option if you have an outside dog or cat because the friend only has to check once a day to make sure there is food and water available. You may not even need to give them a key to your home. It is also good if you are just going away for the weekend and feel leaving your pet will do fine with that friend just popping over once or twice to check on them. You would not want to do this if  leaving your pet requires a great deal of care or specialized feeding.