What To Expect When Having Tests At The Veterinarian
Working with animals is so difficult because they can't use words to let you know what is going on, and everything comes down to having tests done. The more tests a vet needs to do, the higher the bill becomes, and heaven help the person who has to leave their dog at the vet; that extra attention comes with an astronomical price tag.
So how exactly does the vet make a diagnosis? Many factors come into play. Sometimes, you can guess the problem based on prior experiences, especially if your dog has exhibited the same symptoms over many years. Just imagine your vet's knowledge database. She has probably seen almost every problem that a dog can have and can compare those past experiences with the problem that your dog is having. The first stride to a diagnosis is made on a hunch, and you go from there.
If you're lucky, your dog has a common or recurring problem that is easily dealt with by applying some ointment or a few drops of something or going through a bottle of pills. If you're not so lucky, your dog will need blood work, diagnostic imaging, or surgery.
Where to Begin
The best thing you can do to prepare for your initial vet exam is to keep a thorough record of everything your pet has done or experienced since he's been ill. How much food and water intake, is he going to the bathroom, has he lost or gained weight, how's his breathing, exercise, and anything else that might seem important or unusual. You can be sure your vet will ask you a bevy of questions, so the more prepared you are, the better.
After the history and the exam, your vet will probably venture a guess as to what the problem is based off your dog's history, exam, and current findings. Sometimes, it's an obvious problem with a straightforward solution. Sometimes, she will offer to do more testing that isn't necessarily urgent but might be beneficial for future use, and you can take it or leave it without feeling guilty or awkward. In extreme cases where there is something really wrong that requires further testing or therapy, your vet will let you know,Having Tests at the Veterinarian and you'll have to make a decision as to how to proceed.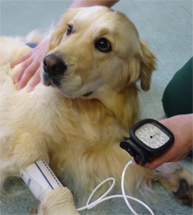 If you are one of the doggy parents that needs to make some tough emotional and financial decisions, your vet will guide you in the right direction. Express your lack of funds and your desire to do whatever you can for your pet. The vet will recommend testing in stages, beginning with the cheapest screening tests, and getting more exclusive from there. The screening is good because it will narrow things down to pinpoint the problems, and they are relatively cheap. After the results come in, you can discuss any further treatment options with your vet and hopefully optional payment plans.