Is My Dog Safe In Doggie Day Care?
A reputable doggie day care makes safety a top priority. Safety measures need to be assessed and constantly re-evaluated to ensure that both the day care's personnel and the dogs are free from potential risks and dangers at all times.
If you are in the process of evaluating whether or not a facility is a safe place to leave your pet, you should take time to visit and check the center and talk with the personnel. Some concerns you can voice out when talking with the center personnel include:
How are dogs screened before being accepted into the facility?
A temperament test is usually conducted to determine whether a dog can be a good candidate for day care.
Are there people manning the floor and supervising all the activities at all times?
As a rule, dogs should never be left unattended while in the facility. A simple case of animosity between two dogs can escalate into a free-for-all dog fight within minutes.
What security measures has the facility implemented?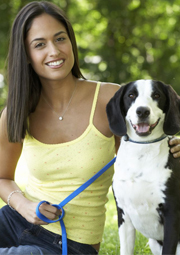 Security measures, such as non-skid surfaces, and the absence of electric cords, particularly in areas where dogs play, and double gates in entrances, are just among the many measures that ensure safety.
Do they have an established emergency procedure that every staff is aware of?
In cases of natural calamities and other emergency situations, a reputable doggie day care should have an established standard operating procedure (SOP) that every staff knows by heart. The safety of each dog and the center's personnel is of paramount importance and should never be taken for granted.
What is the staff-to-dog ratio?
The staff-to-dog ratio will depend on the experience level of the person assigned to a specific group of dogs. Another factor is the activity level of the dogs. There are states that have mandated specific ratios (e.g., Colorado: 1 person to every 15 dogs). The Pet Care Services Association also recommends one staff per 15 dogs; however, active groups should have 1:10, while a 1:20 is acceptable for less active dog groups.n