Pet Resorts
Before pet resorts were around, pet owners only had two choices: the vet's office or a boarding kennel. Today, pet owners can choose from posh pet resorts with a variety of services available to your dog. Pet resorts are often boarding facilities that also have doggie day care available and professional grooming onsite. You can choose to send your dog for the day or overnight. Sending your dog for the day is a great way to get them used to the facility so they will be more comfortable staying overnight when the time comes.
Many of these resorts have individual climate-controlled rooms for the dogs where they cannot see the other dogs. They have little beds available for your dog to sleep on, and often, they even have televisions to keep them company. Services for overnight guests include soothing classical music played at night to relieve stress, webcams in each dog room so the parents can check on them, and suites for multiple same family pets to stay together. The dogs are taken out to use the restroom in the evening. They are also offered an evening snack before bed.
Grooming services will include bathing, grooming, ear cleaning, tooth brushing, shedding treatments, pedicures with polish, and facials. The more exclusive the pet resort, the more spa treatments they are likely to offer for your pet.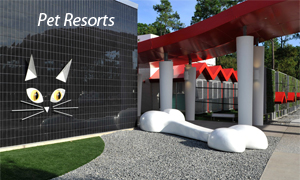 Many pet resorts have some kind of swimming pool or water play for dogs. Resorts in colder climates may have indoor pools for the dogs to use year round. You can even find trainers that can help your dog learn to swim if he is a bit scared of the water. Moreover, professional dog trainers are often available for help training your dog in all behavior areas.
These resorts can be simple or over the top, but they cater to your pet and have the best staff available. They are competitively priced, making them a more comfortable option for your pet than boarding kennels.