Bringing Your New Cat Home
Once you've chosen your new cat, you have a few things to do in preparation to make sure she feels comfortable in her new home. These are a few steps you should follow to make sure your cat is healthy and happy for the long years she will spend with you.
1. Set up a small area that your cat can have to herself for a few days when she first gets home (such as a bathroom or closet). Put all of her necessities in this space (litter box, food, water, toys) and let her settle there. This way she gets comfortable with things that she needs and the smell of her new home without being overwhelmed by the enormity of a whole house.
2. Buy a scratching post. Your cat will want to scratch something, and having a scratching post handy may save your furniture and doors from being ruined.
3. Assign cat care responsibilities across family members. Make sure someone is in charge of filling food and water and cleaning or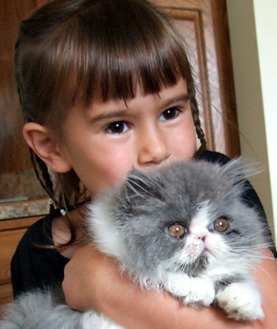 changing the litter box. Prepare a schedule and tell everyone involved what his or her specific responsibility is.
4. Buy a cat carrier. Your cat probably won't need to travel often, but it's a good thing to have. You'll need it at least for the trip home. A cat should never be loose in a car. If you truly believe you'll never use one besides the initial trip home, look into borrowing one from family or friends.
5. Find a vet that you can rely on. If you have other pets, you may already have a good one, but if not, ask around, including family and friends. You can also ask the shelter, rescue group, or breeder that you got your new cat from for recommendations. You'll want to set up an appointment with this vet as soon as you can to check for any health issues your cat might have.
Getting a new cat is a great adventure, and should be exciting! Following these steps will ensure that it's a safe and happy experience for your family and your new feline.